I recently posted a 2-part entry on fluid dynamics and resuscitation (see
here
, and
here
), which described the use of bedside ultrasound as a guide to re-hydration therapy.
These posts contributed to the on-going debate regarding the utility of the IVC index and its relationship to right atrial pressures, which could be used as a "quick" or "dirty" measure of CVP and volume status when taken in the appropriate clinical context.
Probably not fluid responsive
Using an ultrasound "Triple Scan" of the heart, lung, and IVC to assess fluid responsiveness (i.e. an increase of cardiac output by 10-15% with small fluid challenge) seems like a reasonable surrogate to the highly impractical "gold medal" approach of calculating cardiac output using bedside ultrasound, performing a passive leg raise, and then re-calculating cardiac output.
Using the right side of the heart to gauge fluid resuscitation works well for certain patients but it may carry inherent limitations for patients with a history of right heart failure, COPD, pulmonary hypertension, and other diseases with chronically elevated right-sided pressures. By using a pathologic right side (heart/ivc) as a measure, one that has a tendency for elevated pressures, we could potentially be misguided by a false sense of reassurance once achieving a non-collapsing IVC ("adequate preload"). To put it another way: how do we know—without actually measuring cardiac output—that optimizing the right heart with fluid equally benefits the left heart? Should we assume that the left ventricle can accommodate and push out the same supply of preload as the right? Are the left and right hearts equal?
In my original posts I proposed having a quick peek at the lungs for the presence of interstitial edema (B-line predominance) and at the left ventricular squeeze to assess whether adding volume would benefit (heart is fluid responsive, on the up-sloping phase of Frank-Starling's curve) or overwhelm the heart and result in pulmonary edema (plateau phase of the Frank-Starling curve). However, these are qualitative visual estimates and are not entirely accurate.
Diastology is the study of the heart's ability to relax and comply (stretch) with preload volume. If the ventricle is impaired or restricted, it cannot accept the volume we give it and therefore will not be responsive to added fluid. Therefore, if there is underlying moderate to severe left ventricular diastolic dysfunction, gauging our efforts of fluid resuscitation from the right heart is potentially misleading:
In a diastolic dysfunctional LV with normal RV, bulking up the IVC and RA pressures could potentially overwhelm the LV
In a diastolic normal functional LV with chronically elevated RA pressures, there is potential for under-resuscitation of the left heart
Perhaps then it may benefit us to take a closer look at LV function when gauging the adequacy of our initial fluid loading…
Here's how to do it:
Obtain a 4-chamber apical view. If it's poorly visible, try rolling the patient into the left lateral decubitus position. If still not obtainable (or rolling is not feasible), stick to heart/lung/IVC as your guide.
Measure the mitral valve inflow velocity [MVI] (how fast blood rushes in to the left ventricle during diastole) by placing a doppler gate over the superior end of the mitral valve leaflets as they open. The result will show a series of two-wave pattern representing Early diastolic filling (E wave) and atrial kick (A wave) in late diastole. The magnitude and ratio of these two waves represents normal to abnormal filling (diastolic dysfunction).
Next, shift your doppler gate over to the superior-most portion of the inter ventricular septum adjacent to the mitral valve annulus. Turn "TDI on" to get a Tissue Doppler measurement of how fast and how much the septum in this region elongates as blood rushes into the ventricle and stretches it during diastole. The result will show again a two-wave pattern in series, this time upside down (since annulus shoots toward bottom of screen as it stretches during filling). The e' wave and a' prime wave correspond temporally with the E and A waves seen prior and their ratios and magnitudes also help determine normal from abnormal filling (diastolic dysfunction).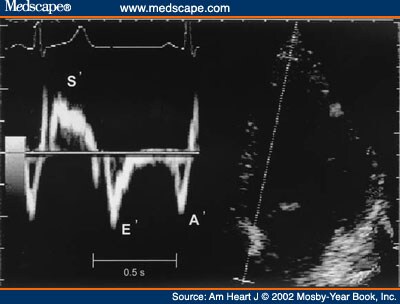 Here's a summary chart:
"Shortcuts": You may notice that if you see an E velocity value < 100 and its size is greater than the A wave, you're done (it's normal).
You many also notice that if the e' velocity is > 8 cm/s in TDI, you're done (it's normal).
If A > E, it is impaired function.
My take on this is if a patient continues to be in a state of hypo perfusion or hypotension and the IVC no longer collapses (low IVC index), I look at the lungs and heart.
If the LV diastolic function is normal, even impaired, I may add more volume to bring that patient toward pseudo normal relaxation. At this point, any further efforts at increasing perfusion would be directed at pressors/inotropes knowing that the heart has reached its limit of fluid responsiveness.